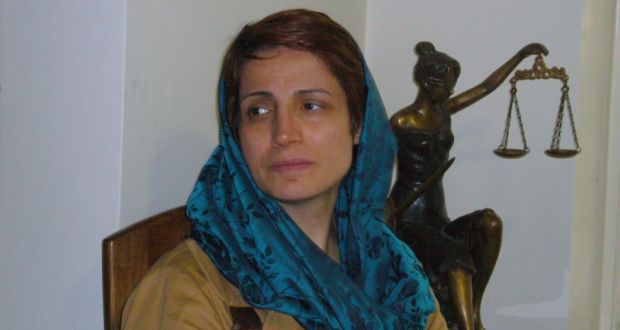 N a s r i n S o t o u d e h
(Yahoo March 7 and 13 2019)
Iranian human rights lawyer Nasrin Sotoudeh has been sentenced to an extra 10 years in jail on top of the five-year term she is already serving, her husband said Tuesday.
The charges range from her membership to a human rights group to "encouraging corruption and prostitution".
Bestrafung der eigenen gehemmten Geilheit
Wie im Christentum: Der nach außen projizierte innere Teufel und die paranoide Jagd auf den äußeren Teufel. 'Das treibende unbewußte Gefühl [die akhoondisch (mit oder ohne Turban) gehemmte Geilheit] erscheint so als Folgerung aus einer äußeren Wahrnehmung': Die innere Wahrnehmung wird durch eine Wahrnehmung von außen ersetzt (Freud).
Sotoudeh's conviction was not immediately reported by Iranian state-run media… The Center for Human Rights in Iran relied on information about Sotoudeh's case provided by her husband Reza Khandan, who separately faces a six-year prison sentence over providing updates on her case… Her detention in part relates to her defense of women who protested the mandatory hijab… One of Sotoudeh's clients in the hijab protests received a 20-year prison sentence…
She 'was arrested last June and told she had been found guilty in absentia of espionage charges and sentenced to five years. The new 10-year sentence was the longest of seven different verdicts totalling 33 years bundled together…, according to her husband Reza Khandan.
"But only the longest sentence will be served, which is 'encouraging corruption and debauchery [debauchery: 'excessive indulgence in sex, alcohol, or drugs' (dictionary)], and providing the means', he told AFP by telephone.
He said Sotoudeh had also been sentenced to a total of 148 lashes for appearing in court without the hijab Islamic head covering and for another offense. She had been found guilty of "colluding against the system, propaganda against the system… disrupting public order" and several other counts".
Amnesty International condemned the latest case against Sotoudeh as an "outrageous injustice" and called for her immediate and unconditional release. "Nasrin Sotoudeh has dedicated her life to defending women's rights and speaking out against the death penalty — it is utterly outrageous that Iran's authorities are punishing her for her human rights work," it said.
All
Love & Respect
to
Nasrin
(We say).